Q8 SDR Dock
A Daughterboard for the Q8 processor card that incorporates an SDR module based on Analog Devices' popular AD9361 wideband transceiver RF System on-a-chip (RFSoC). The Xiphos Q8 SDR Dock is a Daughterboard for the Xiphos Q8 Processor Board. It allows the Q8 to be inserted into existing systems with high-bandwidth radio or RF streams. High-performance software-defined radio (SDR) algorithms can then be run on the Q8's processor or FPGA.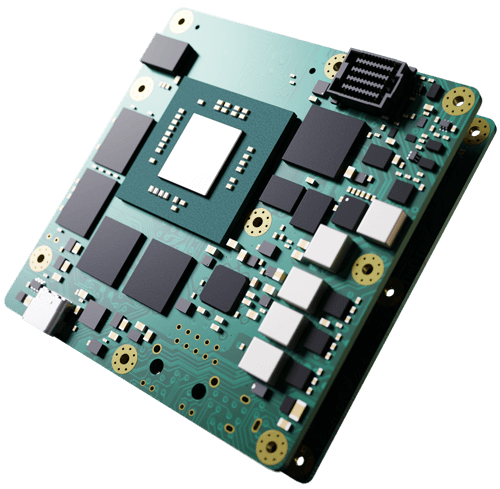 The Q8 SDR dock offers the following key features:
Interfaces:
2x RF Out, 2x RF In, CAN Bus, USB 2.0, PPS In, LVDS GPIO (can be used to support SpaceWire* interface)
Additional Functions:
AD9361 SDR module (provided separately)
Size:
80 x 80 x 34.7 mm (Q8 installed, no RJ45)
Input Voltage:
Power consumption:
7.3W (two RF transmitters active)
* SpaceWire IP core available from Xiphos.
Specific Use
The Q8 SDR Dock is ideal for space applications that require high-performance SDR. It is often used for applications such as satellite communications, Internet of Things, and RF sensing.
Did you know
Q-cards are generally used in conjunction with application-specific Daughterboards, which provide a broad range of interfacing options and application-specific electronics. Contact our team to learn more about customization.
Explore Custom Solutions
Other Processors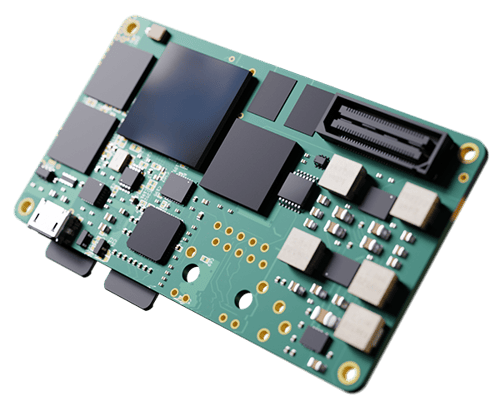 Q7
Upholding the small form, minimal weight, and conservative power usage of its predecessors while boasting solid multiprocessor CPU performance, our Q7 is a hybrid environment of powerful CPUs and reprogrammable logic that will get the job done.
Memory: 256MB LPDDR2 RAM (with ECC), 2x QSPI Flash (NOR), 2x MicroSD
All-Programmable System-on-Chip: Xilinx Zynq SoC, including ARM dual-core
Cortex-A9 MPCore processors supported by massive programmable logic resources
Control FPGA: ProASIC 3.
Operating System: Linux
Learn More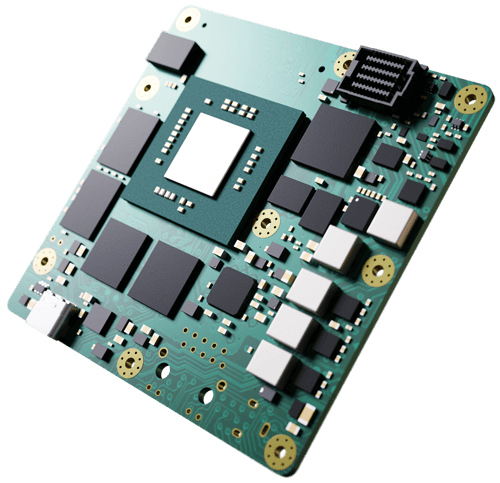 Q8
We're taking high-performance up a notch with the Q8, the latest addition to our spaceflight-ready miniature processing boards. Building upon the solid reputation of the Xiphos line, the Q8 maintains the same efficient design while setting new records in performance. It's like taking the known limits of processor power and giving them a caffeine boost.
Builds on the extensive heritage of flight-proven Q-card family
Xilinx Zynq UltraScale+ Multi-Processor System-on-Chip (MPSoC) Processing FPGA, including quad-core ARM Cortex-A53 Application Processing Unit, dual-core ARM Cortex-R5 Real-Time Processing Unit, and ARM Mali-400 GPU supported by massive programmable logic resources
Memory: 4 GB of LPDDR4 RAM (with ECC), 2 x 256 MB QSPI Flash (NOR), and 2 x 128 GB eMMC.
Power: typical 5W @ 5V to 16V
Interfaces: Gigabit Ethernet, USB 2.0 & 3.1, serial, multiple high speed I/O via mezzanine connector, including GPIO, LVDS, and GTR multi-Gbps transceivers for SATA or PCI Express (PCIe Gen 2)
Linux SDK
Radiation effects mitigation & 30krad TID lifetime
Learn More